By IFCMarkets
Dow Jones showed a record weekly growth
US dollar index continued rising on Friday. US energy stocks stumped on cheaper oil. Nevertheless, Dow Jones industrial average index hit a fresh historical high and showed a record weekly growth in recent 5 years. Nasdaq Composite showed the same trend, but stopped just below the previous high.
Stocks of Nvidia, which designs graphics processing units, sky-rocketed 30% on Friday on strong quarterly earnings. Economic data came out positive. Michigan University Consumer confidence index for November was much above the expectations. Speaking of sectoral growth, banks, financials and biotechnolohies showed the highest growth of 10-12% last week. Trading volume in US exchanges was high on Friday being 7.5bn stocks which is 28% above the monthly average. No significant economic data will come out on Monday in US.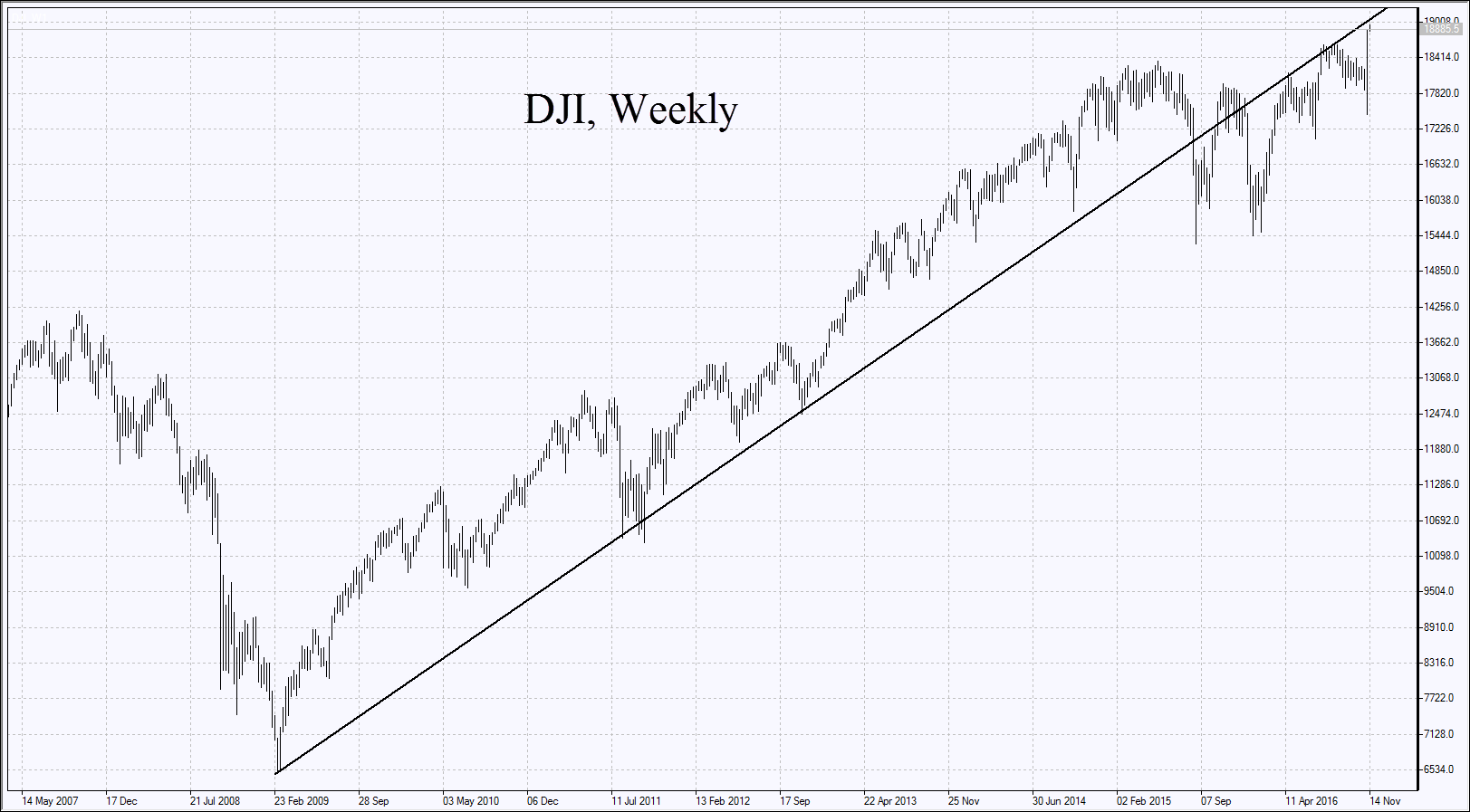 European stocks edged lower, euro continued falling
European stocks fell on Friday. Investors worry protectionist measures of newly elected US president may weigh on European stocks. Materials sector fell on lower oil and metals prices. Stocks of European companies which have a significant share of business in developing countries also dropped as Chinese yuan, Mexican peso, South African rand, Brazilian real and other currencies weakened.
German DAX index closed a bit higher on positive news from BMW carmaker and Allianz insurance company. Euro continued falling on Friday and on Monday amid stronger US dollar. Industrial production for September came out positive on Monday. No other significant economic news came out in Eurozone today. 
Japanese stocks rose on weaker yen
Nikkei advanced on Friday and Monday mostly due to severe weakening of yen on stronger US dollar which may support Japanese exporters. Moreover, positive economic data came out in Japan on Monday morning. GDP rose 2.2% in Q3 2016 in annual terms which was far above the forecast of +0.8%. Industrial production in September was above expectations. Some investors believe the US protectionist policy may mostly affect China and less Japan. This week each day will bring some new economic data except for Friday. Trade balance for October due on November 20, 2016 may affect the yen and Nikkei index.
Oil slumped on possible OPEC members disputes
Oil fell to 3-month low. Market participants doubt OPEC is to freeze oil production on its meeting on November 30, 2016. Its production hit a fresh historical high of 33.64mln barrels a day. Moreover, investors expect higher oil production by LTO companies in US after Donald Trump won the elections as he is planning to support local producers. Despite fall in oil prices, the active oil rigs count rose in US by 6% since the September OPEC meeting. Oasis Petroleum LTO company acquired an oil-bearing land in Williston Basin from SM Energy for $785 mln. Oasis Petroleum said the company will be satisfied with a price of $40 per barrel. Oil prices are rising on forecasts of lower oil production in Iraq on Basra oil field in December. Moreover, oil production fell in China 11.3% this October compared to last October. It is now being 3.78mln barrels a day which is the lowest since May 2009. Previously Chinese Sinopec said the development of new oil field is cost efficient only when oil prices are about $45-50 per barrel. Oil production fell in China to 3.99mln barrels a day from 4.3mln in first 10 months of this year compared to same period of last year. Oil refinery rose 5.5% which shows that high demand persists.
Market Analysis provided by IFCMarkets
Note:
This overview has an informative and tutorial character and is published for free. All the data, included in the overview, are received from public sources, recognized as more or less reliable. Moreover, there is no guarantee that the indicated information is full and precise. Overviews are not updated. The whole information in each overview, including opinion, indicators, charts and anything else, is provided only for familiarization purposes and is not financial advice or а recommendation. The whole text and its any part, as well as the charts cannot be considered as an offer to make a deal with any asset. IFC Markets and its employees under any circumstances are not liable for any action taken by someone else during or after reading the overview.