By IFCMarkets
Dollar continues its rally
US dollar index continued rising on Wednesday to hit a fresh 14-year high. US stocks edged lower. US industrial production rose for 2nd straight month but fell short of expectations.
It accounts for 12% of US GDP. Growth of Producer Price Index in October was below forecast which limited the increase of US stock market indices. Moreover, some investors are reluctant to buy stocks ahead of release of economic programme of new US President Donald Trump. Today at 14-30 СЕТ the positive October Housing starts and Building permits data came out in US. At 14-00 СЕТ Fed President Janet Yellen spoke in US congress. We see these events as important ones which may influence US stocks and stock indices. Chances for the Fed rate hike on December 14, 2016 remain at 91%, according to FedWatch, but the increase may be within the range of 0.25%-0.75%. Market participants do not have a single opinion on the matter. Speech of Fed chair Janet Yellen may add some certainty.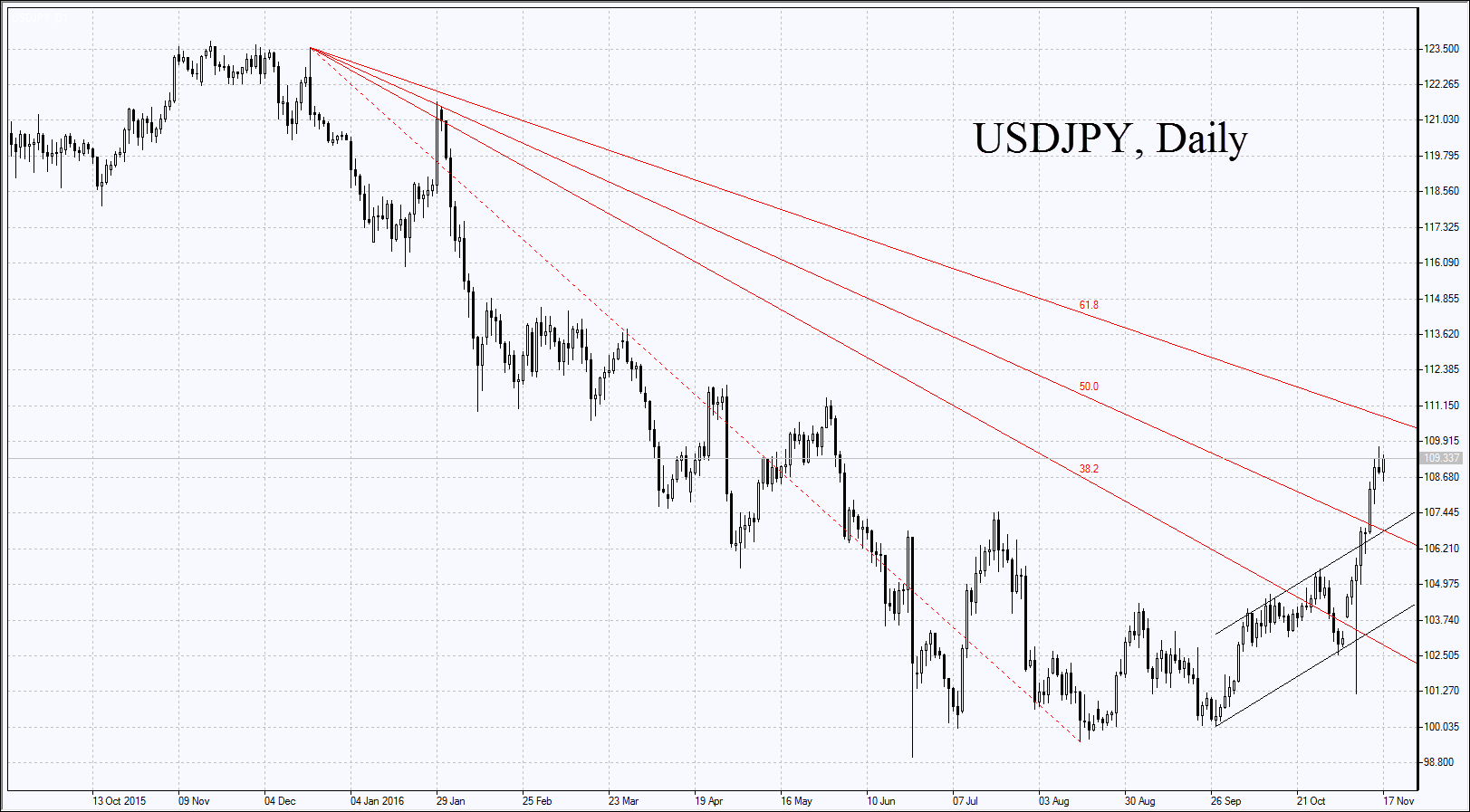 Euro hit a fresh 12-month low yesterday. Main reason is difference in rates as Fed rate is on the rise while ECB rate is at zero level. At the same time, market participants do not bet on EUR/USD parity as Eurozone has a substantial surplus of current account while US have negative balance.
European stocks dropped on Wednesday with no evident reasons as no significant economic data came out. Market participants could have decided to fix profits near the year highs. Hugo Boss stocks slumped 10.2% after the company's strategy changed. The company is planning to reduce assortment and focus on younger buyers. Construction data for September and October inflation came out neutral today in Eurozone.
Nikkei hits more than 9-month high
Nikkei hit a 9-1/2 month high amid lower yen. Banking stocks were leading the growth on higher yields of 10-year Japanese government bonds. Market participants believe this may increase the profit of financial sector. Moreover, housing loans rose 2.7% in Q3 in Japan after +2.4% in Q2.
Lower demand on silver is anticipated
Silver prices slightly edged lower after GFMS agency said that physical demand for silver is being at 4-year low. The demand of jewellery industry for silver may total 257.6mln ounces. ETF silver funds previously forecasted the inflow of 71.4mln ounces as at the year-end while GFMS expected it to be just 61.9mln ounces. Demand for silver coins and bullions may fall this year to 222mln ounces from 292.4mln ounces in 2015. At the same time silver production is expected to contract only by 0.6% to 887.4mln ounces. All this will make the silver deficit in the global market fall 60% to 52.2mln ounces from 124mln ounces in 2015. GFMS expects physical demand for gold to contract by 9% to 1064.6mln ounces.
Sugar fell to 2-month low. Market participants believe that was a technical movement as options expired. Unica agency released the data on sugar production in Brazil in second half of October which were in line with the forecast.
Cocoa prices stopped falling. The world leader in cocoa production Cote-d'Ivoire let exporters not to prolong the contracts on cocoa exports, which were not executed in previous season, to season 2016/17. This may provoke additional demand for 60-120 thousand tonnes. There is no exact estimate but markets are sure about higher demand.
Market Analysis provided by IFCMarkets
Note:
This overview has an informative and tutorial character and is published for free. All the data, included in the overview, are received from public sources, recognized as more or less reliable. Moreover, there is no guarantee that the indicated information is full and precise. Overviews are not updated. The whole information in each overview, including opinion, indicators, charts and anything else, is provided only for familiarization purposes and is not financial advice or а recommendation. The whole text and its any part, as well as the charts cannot be considered as an offer to make a deal with any asset. IFC Markets and its employees under any circumstances are not liable for any action taken by someone else during or after reading the overview.