By Admiral Markets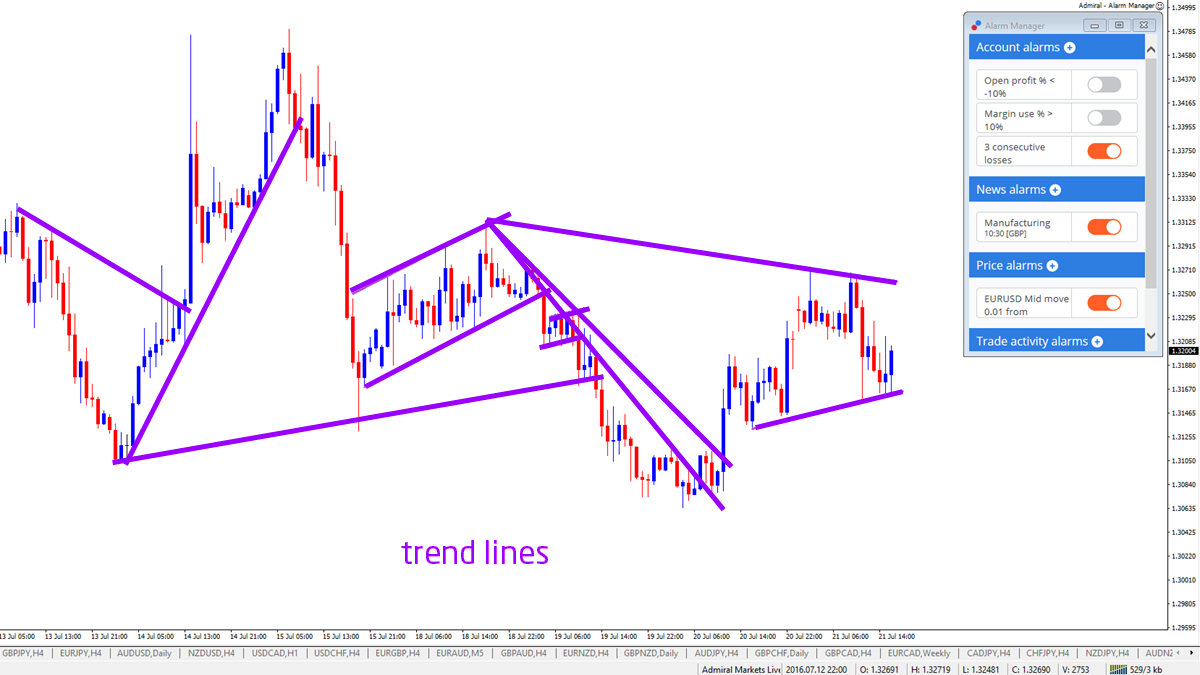 Dear Traders,
After reading
part 1 of my series on trend lines, you probably agree that drawing trend lines is an important component of a well-balanced trading style.
Furthermore, I also revealed why this technique is suitable for traders of
all experience levels…
…even though it does come with one condition.
Reading and implementing the lessons of the second part is an essential learning step.
Continue reading if you want to know more about:
…drawing correct trend channels…
…assessing which trend lines are valuable…
…and knowing which part of the chart is relevant.
|365f36c177b9c3b90cec6d7106fd8fc0|
Trend lines with a steep angle typically occur when price is moving with momentum.
In short, when the majority of
candles are moving in one direction, with small counter-trend pullbacks.
Steep trend lines are useful as a trail stop loss (exit)…
…or as a setup to enter the break of a counter-momentum setup (entry).
|13903e1436000d75291065fca34b461d|
You might be wondering – what actually qualifies as a steep or shallow trend line?
Steep trend lines typically have an angle of 45 degrees or more…
…whereas shallow trend lines vary from 0 degrees to roughly 25 degrees.
Anything between 25 and 45 degrees can be considered medium-angled – which is excellent for trend channels (we'll get back to that later).
It's crucial to note that I only make a rough estimate of the trend line angle – not the exact measurements.
You should well remember one rule I'm going to tell you right now – and it'd be best if you put it on a sticky note somewhere close to you.
What does this rule state?
It's simple trading that always prevails.
|1f353d58e1cbde56ff08e9fbe6e7998c|
Did you know that traders can change the angle of a trend line?
That's one of the fascinating features of the chart.
Traders can manipulate the angle by increasing and decreasing the number of bars or candles which are visible on the chart.
The chart with the best balance displays approximately 150 to 200 candles.
|e347e004e648fb790b01aee5a68b7a49|
Until now, we've discussed single trend lines representing support or resistance.
Trend channels consist of two trend lines which are parallel to each other.
Trend channels signify
trend formation – that's why they should have an angle of 25 to 45 degrees.
Such an angle provides an ideal balance of momentum and correction.
Channels with lower or higher angles can still provide useful information as support and resistance…
…but they do not qualify as
trend channels.
We can simply call them channels instead.
|92c0adaa4eba7852ddfbd780b38f6d98|
In
part 1, I mentioned that two hits qualify as a potential trend line…
…but the third point is required before a trend line is confirmed.
There are additional guidelines for counting the correct number of hits on a trend line.
These guidelines state that you should not count multiple candles that are touching the trend line at the same spot.
Instead, these hits should only count as one point on the trend line.
There has to be a gap of several candles between the hits before you can count them as two separate hits.
These guidelines are very important – otherwise, traders could see multiple trend lines instead of just one.
|2d3fccb355fd17cc152a0e45053b168a|
Another critical guideline is how traders draw trend lines in relation to the candles and wicks of the candles.
The best trend lines use candle highs and lows and do not cut through any part of the candle.
However, the charts are sometimes not that perfect.
A trend line can still look fine even if the trend line cuts through a wick or part of the candle.
After all, trend lines and trend channels are mere indication of price actions.
They show extremes that go past a trend line – so drawing a trend line which cuts through a candle or wick is acceptable.
There is a boundary, though.
I avoid drawing trend lines where entire candles are placed on the opposite side.
This is what they call a
break or breakout.
Last but not least, I think it's perfectly fine to draw multiple trend lines on the chart.
The market itself is not perfect – and drawing multiple trend lines only adds value to the analysis.
It doesn't hurt to see different angles, support/resistance and connect different tops, bottoms, wick or candles.
Your trading will probably benefit from it.
However, make sure that the number of trend lines is not too confusing.
|6ddf96af09f2277f7d7a7ffbfa6b26d6|
Now that you've read part 2 of our series on trend line, you know everything you
need to know about trend lines:
what trend lines are the best
what characteristics they share; and
what items they must have.
You can draw valuable trend lines all by yourself, too.
Now, it's time for the next step – using these trend lines for profitable trading decisions.
If you want to know how to apply trend lines to trading, watch the video below.
We go into detail on decision spots, breaks, breakouts and bounces – all the essentials.
Cheers and good trading,
Chris


Article by Admiral Markets
Source: How drawing trend lines helps traders of all experience levels, part 2
---
Admiral Markets is a leading online provider, offering trading with Forex and CFDs on stocks, indices, precious metals and energy.