Who wants to be a profitable trader?
If that's you then arguably,the biggest asset or handicap in that will determine whether you will become a profitable trader is:
Your Mind. Your Beliefs. Your Ego.
Although, there are about 5 or 6 major components of your trading mentality that need to be vetted in the help you become profitable, the rabbit hole goes really deep, but I will show you  i'm only going to cover 1 important part of this subject.  What is that?
It's okay to be wrong. Read that sentence again.
Ok, i'll say it over.
It is okay to be wrong.
We all want to be right. We all want to continuously prove to ourselves how smart we are by always being right.
It feels good but…
Being MR. Know it all. Being Mr. I'm Right All the Time will be the death of your trading career.
Reread that sentence too.
This is the reasons why 95% of all traders fail to make profits consistently.
This is the one profession where trying to be right all the time, every time will bankrupt you
emotionally, psychologically, and financially. In this profession if there is one thing you should know is that you are going to be "wrong" at least 50% of the time, depending on your particular trading system of course.
But here's the funny thing, YOU are not wrong.
Your particular trading experiment simply didn't work in that particular moment in time. For a while, I was sure that the market was "out to get me." After settling on trading plan, therewas a stretch where I loss some 5 or 6 trades IN A ROW. This is the point where many buckle.
Honestly, I wasn't buckling but I was worried that my trading plan was bunk. That was until I settled down and starting understanding the underlying factors. After while I realized that if I continued to follow my game plan that there was no way I could be wrong forever so Icontinued to trade my game plan. Low and behold I was proven right lol. I didn't need to be right all the time, every time. I knew I just needed to be some of the time. And being right some of time would more than make up for those losers.
But the losing traders don't get it. They think they can rule the markets by impulsive trading or over trading.
The winning traders understand this wholeheartedly: the markets is a collection of traders from those just like yourself, to big banks and instutions, to a number of entities in between who all have an agenda. That agenda is to MAKE MONEEEEY (Kevin O'Leary voice).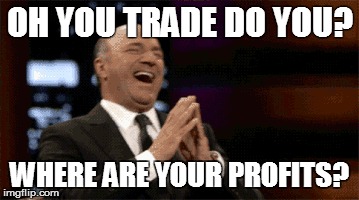 Bottom Line.
Meaning that the sometimes the collective agenda is sometimes going to work with you and your trading plan and other times it wont.
Stop taking losses so damn personally. There is no way for you to be right all the time in this profession.
The market isn't some mysterious entity out the prove your wrong or make sure you never become
successful at trading. The market doesn't care about you because the market is simply an ocean of differing opinions on where the price of a currency or stock might go, coming from minds of
other human beings just like yourself. And, sometimes robots so there are trading robots trading as well but even those robots have a dispotion or an opinion if you will of where the market is headed and what direction price might go.
But robots are another talk for another time.
HERE'S THE SOLUTION(S) TO FIX IT:
One thing about life is a lot of the time it is how we frame our specific situation. For example, let's imagine it's your day off from work and you were hoping for a beautiful, sunny day. Then suddenly, after the day starting out as you envisioned, it starts raining cats and dogs outside.
You could look at it as "damn, it would start raining today on my day off!!" Or you could simply look at it as "Welp, I get I don't have to water the grass today and I get to stay inside, read a book and get some much needed relaxation."
Here's how to frame it?
You weren't wrong: You were running an experiment and your hypothesis (ie trading system) was proven incorrect (at that particular moment in time).
Being okay with being wrong is actually only 1 of the many mental shifts that need to take place in
order for you to Make and more importantly, keep those pips. Unfortunately, this is quite an extensive topic.
Here's a great resources you can use to discover AND OVERCOME all the mental ailments that may destroy your trading results:
Trading in the Zone: Master the Market with Confidence, Discipline and a Winning Attitude
Hands down, to me, the BEST trading book on the planet and easily of my favorites- if you are like me and still appreciate physically holding a book in your hand, it comes HIGHLY recommended.
I can go on and on but it wouldn't do you any good. Check it out for yourself.
Anyways, this is the most crucial element and ironically the most overlooked aspects of profitable trading. Mainly, because it is an hidden sticking point. Most people can see if they don't system in place or if's lacking. Or we can always hit the books if we feel we don't know enough about the markets.
That type of stuff is easy to do and easily correctable. What is not is getting your mind right. Destroying beliefs that you have been carrying around for years, oftentimes since we were children. Those beliefs only serve to handicap your mentally and deplete you financially.
A profitable trading balance is the reflection of a balanced ,open minded as well as being balanced emotionally and mentally. This is can be any given trader's Mount Everest. If that's the case is there any wonder why 95% of all traders fail and continue to do so after taking countless hours to study the market and make sure they have a full understanding.
Once you take the time to understand yourself then you will have mastered the trading matrix.