By IFCMarkets
Frozen pork reserves slightly decreased in the US
In August, frozen pork reserves declined in the United States. Will the LHOG prices grow?
According to the US Department of Agriculture monthly report, the US frozen pork reserves amounted to 575.7 mln pounds in August 2017. This is by 5.5% less than in August of the last year, when they were 608.9 mln pounds. Let us recall that previously the Ministry of Agriculture of China reported a reduction in the livestock of pigs in the country by 5.6% in August 2017 compared with the same month in 2016.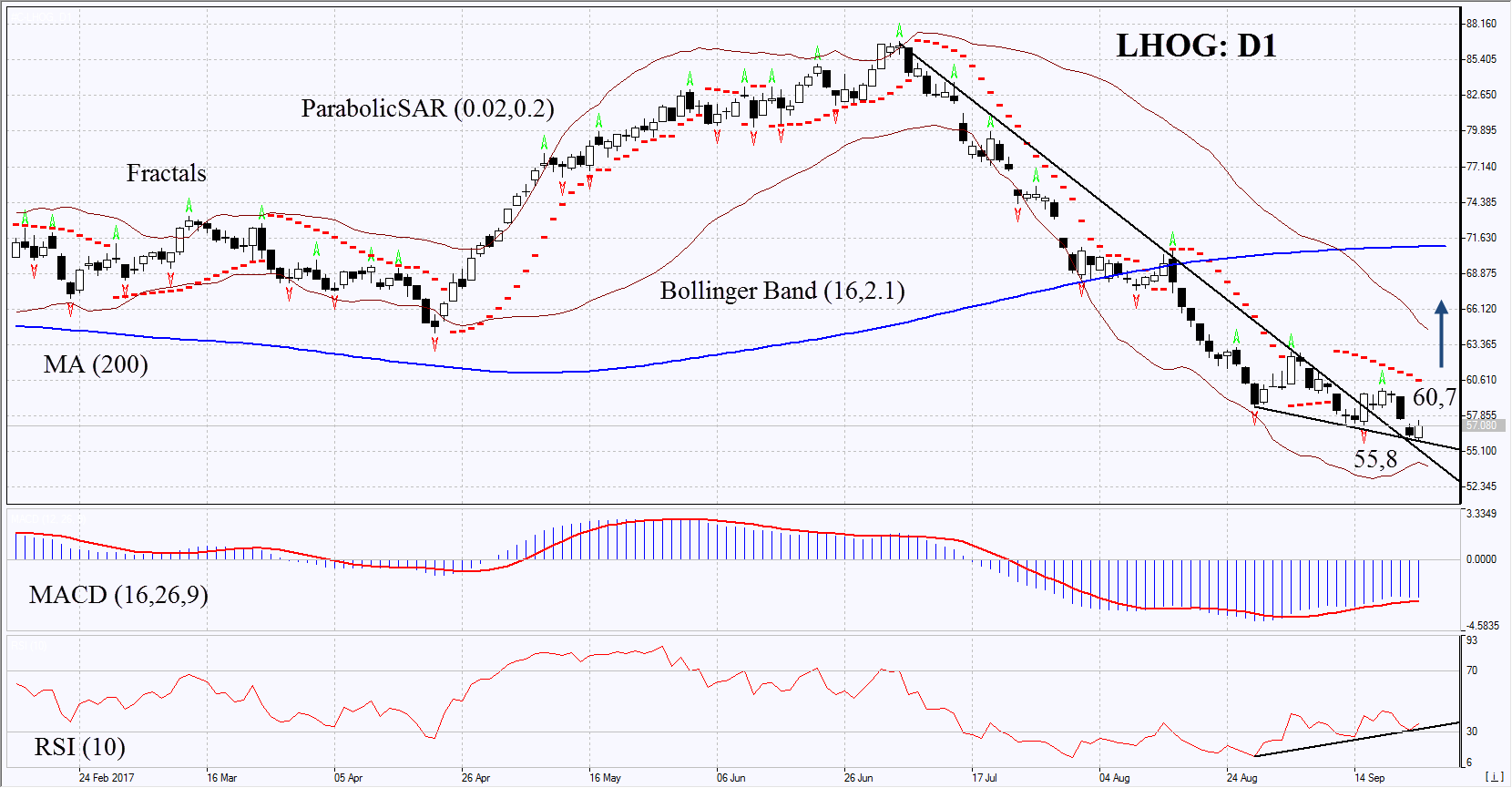 On the daily timeframe, LHOG: D1 continues to be in the falling trend. However, its decline has slowed down and some indicators are giving bullish signals. The upward correction of prices is possible in case of an increase of world demand for pork.
The Parabolic indicator gives a bearish signal. It may be used as an additional resistance level which needs to be overcome before opening a Buy position.
The Bollinger bands are narrowing, which means lower volatility.
The RSI indicator is below 50. It has formed a positive divergence.
The MACD indicator gives a bullish signal.
The bullish momentum may develop in case LHOG exceeds the last fractal high and the Parabolic signal at 60.7. This level may serve as an entry point. The initial stop loss may be placed below the last low in 11 months at 55.8. After opening the pending order, we shall move the stop to the next fractal low following the Bollinger and Parabolic signals. Thus, we are changing the potential profit/loss to the breakeven point. More risk-averse traders may switch to the 4-hour chart after the trade and place there a stop loss moving it in the direction of the trade. If the price meets the stop level at 55.8 without reaching the order at 60.7 we recommend cancelling the position: the market sustains internal changes that were not taken into account.
Summary of technical analysis
| | |
| --- | --- |
| Position | Buy |
| Buy stop | above 60,7 |
| Stop loss | below 55,8 |
Market Analysis provided by IFCMarkets