By IFCMarkets
Weather affects the soybean crop
Soybean meal has increased in price on the background of the drought in Argentina. Will the increase in soybean meal quotes continue?
International Research Institute and the US Climate Prediction Center do not exclude the possibility of the formation of the natural phenomenon La Niña, which may noticeably deteriorate the weather in South America. Argentina is the world's third soybean producer after the US and Brazil. An additional factor for the price growth may be the National Oilseed Processors Association (NOPA) report about the reduction in US producers' soybean oil stocks at the end of October 2017 to 1.224 bln pounds, compared with 1.343 bln pounds in October 2016. The export of soy products from the US increased in October to 643.2 thousand tonnes compared to 562.2 thousand tonnes in October of the last year. Soybean meal is a by-product of soybean processing.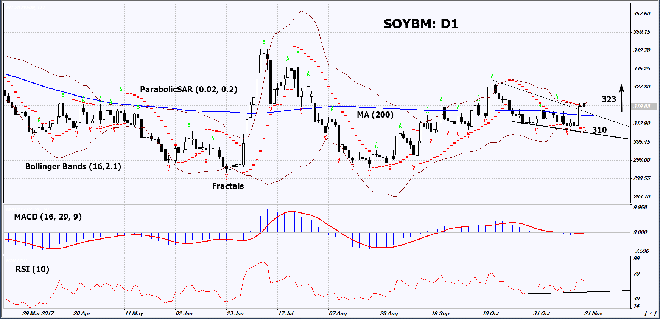 On the daily timeframe, SOYBM: D1 exceeded the resistance level of the downtrend and the 200-day moving average line. Further price growth is possible in case of the worsening of weather conditions and the reduction of world crop.
The Parabolic indicator gives a bullish signal.
The Bollinger bands have narrowed, which means lower volatility. They are tilted upwards.
The RSI indicator is above 50. It has formed a positive divergence.
The MACD indicator gives a bullish signal.
The bearish momentum may develop in case SOYBM exceeds the upper Bollinger band and the last fractal high at 323. This level may serve as an entry point. The initial stop loss may be placed below the lower Bollinger band, the Parabolic signal and the last fractal low at 310. After opening the pending order, we shall move the stop to the next fractal low following the Bollinger and Parabolic signals. Thus, we are changing the potential profit/loss to the breakeven point. More risk-averse traders may switch to the 4-hour chart after the trade and place there a stop loss moving it in the direction of the trade. If the price meets the stop level at 310 without reaching the order at 323, we recommend cancelling the position: the market sustains internal changes that were not taken into account.
Summary of technical analysis
| | |
| --- | --- |
| Position | Buy |
| Buy stop | above 323 |
| Stop loss | below 310 |
Market Analysis provided by IFCMarkets