By IFCMarkets
Preparing for the publication of significant statistics in Canada and for NAFTA negotiations
On February 25, 2018, the 7th round of the negotiations on the revision of the North American Free Trade Agreement (NAFTA) has started. Earlier, US President Donald Trump actively advocated its termination. Will the quotes of the Canadian dollar fall if negotiations fail to make progress? On the USDCAD chart, the weakening of the Canadian dollar looks like growth.
The North American Free Trade Agreement between Canada, the United States and Mexico was signed in 1992. US President Donald Trump wants to revise it, because in his opinion, this will greatly increase employment in the US manufacturing industry. The 7th round of talks is expected to end on March 5, 2017. The termination of NAFTA could significantly damage the Canadian economy, as the US accounts for three-quarters of Canada exports. Additional negative factors for the Canadian dollar were economic statistics. In particular, the decrease in inflation in January reduced the likelihood of the Bank of Canada rate hike. In December of the last year, a reduction in the volume of retail and wholesale trade was recorded, while market participants expected its growth. On Friday, March 2, 2018, the GDP for the Q4 of 2017 will be released in Canada. Its growth is expected to be smaller than the Bank of Canada preliminary forecast. On Thursday, Department of Finance Canada is going to publish the budget for the current year. Amid the problems with NAFTA, its deficit is expected to increase.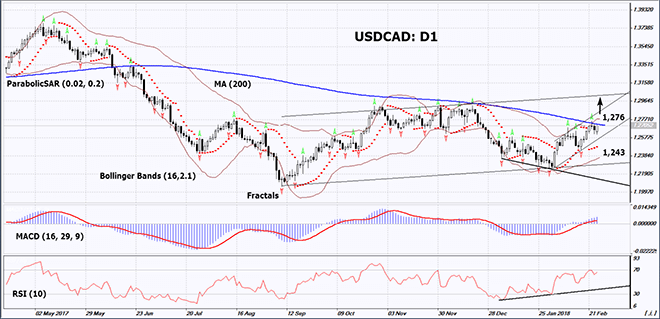 On the daily timeframe, USDCAD: D1 is in the rising trend. The further price increase is possible in case of the publication of negative economic data in Canada and positive ones in the US.
The Parabolic indicator gives a bullish signal.
The Bollinger bands have widened, which means higher volatility. They are tilted upwards.
The RSI indicator is above 50. It has formed a positive divergence, which has partially reversed, but the general upwards movement is still preserved.
The MACD indicator gives a bullish signal.
The bullish momentum may develop in case USDCAD exceeds the last fractal high and the 200-day moving average line at 1.276. This level may serve as an entry point. The initial stop loss may be placed below the last fractal low and the Parabolic signal at 1.243. After opening the pending order, we shall move the stop to the next fractal low following the Bollinger and Parabolic signals. Thus, we are changing the potential profit/loss to the breakeven point. More risk-averse traders may switch to the 4-hour chart after the trade and place there a stop loss moving it in the direction of the trade. If the price meets the stop level at 1.243 without reaching the order at 1.276, we recommend cancelling the position: the market sustains internal changes that were not taken into account.
Summary of technical analysis
| | |
| --- | --- |
| Position | Buy |
| Buy stop | above 1,276 |
| Stop loss | below 1,243 |
Market Analysis provided by IFCMarkets